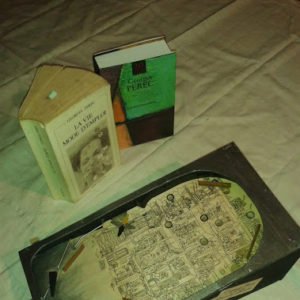 For a moment it seemed like winter would begin for real, so before Christmas I moved my workshop from the yard to the living room. I decided to build a more mature game that was supposed to be smaller than any of the previous games at the same time. Yes, this machine could even be called miniature. On its A4-sized playfield, I copied the gazillion people and objects from Saul Steinberg's picture depicting everything Georges Perec lists in his "Species of Spaces".
The game is dedicated to my favourite character in the book "Life a User's Manual". This is the crafty Gaspard Winckler, the monomaniacal craftsman who spends a couple of decades of his life cutting up watercolour paintings made by another monomaniac, Benjamin Bartlebooth, into jigsaw puzzles. Sometimes I think that my life too is nothing but a string of successive manias changing every so often.
This machine works with steel balls and it has a plexiglass cover. Every week, one or another bumper's rubber snaps into pieces, because, unfortunately, I chose them because of their colour and not by durability. Also, because of the small size, I had to give a sharper angle to the playfield, because otherwise the return mechanism of the balls wouldn't work properly. This, in turn, makes playing very quick and jumpy. So, in all honesty, this game is more for watching than playing.